Our Integrated Curriculum
We believe that an enriched curriculum is essential in acquiring a passion for learning; therefore, we have developed a topic-based curriculum, which allows children to develop links across all subjects. The table below displays the curriculum map for KS1 and KS2.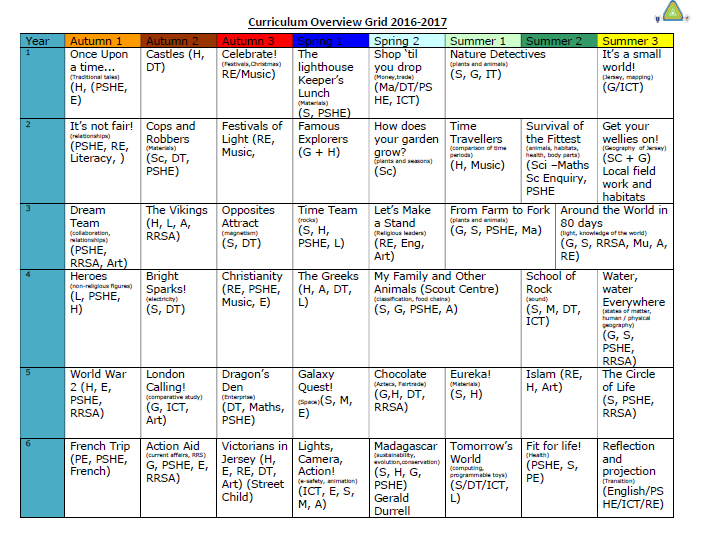 ​
Computing
The Computing curriculum is taught discreetly where necessary and cross-curricular links are made wherever possible. The strands taught are:
Computer Science (Coding)
Digital literacy
IT Skills
We have a range of fixed and mobile technology for children to use, and the use of IT should be encouraged throughout the curriculum to support teaching and learning.
Modern Foreign Languages: French
Pupils in Key Stage 2 learn French as their Modern Foreign Language. The emphasis on these lessons is to develop vocabulary, begin to formulate sentences orally and in writing and deepen their understanding of the world. We use La Jolie Ronde to support our teaching. Class teachers sometimes lead sessions, and sometimes specialist French teachers lead the lessons.
Religious Education
R.E is often taught by a visiting teacher. We have a separate RE curriculum that is followed, based on the Jersey Curriculum.
Enriching the Curriculum
We aim to enrich the curriculum with memorable learning, experiences, including educational visits, outdoor learning opportunities, themed weeks, music concerts, workshops, visiting artists and other hands on learning experiences. Each class will provide an off-site visit at least once a term. Residential trips follow a progressive pattern so that children build up to a week-long trip by Year 6. Arrangements for 2016-17 are:
Y3 Sark Trip (1 day)
Y4 Scout Hut (3 days, 2 nights)
Y5 St Aubin's Fort (3 days, 2 nights)
Y6 Mur De Bretagne, France (5 days, 4 nights)
We are developing our outdoor garden and cooking, linked to the charity Caring Cooks. All classes are expected to be involved in this during the year.
We also have a pond, woodland and are within walking distance to the beach. Our minibus is always available for trips too.